What to pack on safari, is a frequently asked question when going on a holiday to Africa.
Depending on where you stay for the night, or what activities are on the agenda, it can be handy to have the best equipment available, as I figured out myself the hard way.
Like for example, if you go out camping in the bush, you would need other things than when you will be staying in a 4-stars lodge ;-).
Today, I will be diving further into the equipment that I bought before going on safari ànd the equipment that I wish I had bought beforehand when I saw other people using it.
A list of necessities to go on a safari, in my opinion:

Item Number One: Sunscreen.
This might be very obvious, but lots of people underestimate the strength of the African sun! And especially if you are a tourist traveling from a country with less sunlight 😉
It really would be better if you protect your skin with sunscreen with a strong protective factor.
South Africa, for example, has a high incidence of skin cancer, so be careful, please!

Item Number Two: A Sun Hat.
This is consistent with item number 1, as it also protects you from the African strong sunlight. At least wearing a cap would be advised, but even better is a large sunhat, like in the picture below. Doesn't it look quite fancy as well? 🙂

Item Number Three: African Safari Clothing.


In my experience, you don't need super-duper fancy safari clothing, but what I most prefer is light clothes in cotton that dry quickly when you sweat or wash them (by hand when camping).
I would not, I repeat not wear clothes made from polyester. Sorry to say: but the African heat will make them smell bad, every time you sweat.
A few hours after exercise or when sweating overall, synthetic clothes smell a lot more than cotton clothes. These stench-producing bacteria grow much better on polyester than on cotton.
Of course, we don't want to scare off animals. So it is advisable to wear clothes in natural, neutral tones such as khaki, grey, green or brown. You might think it is obvious to think of camouflage clothing, but beware that in many countries, it is prohibited to wear these kinds of clothes, because the military wears them.
A shirt with a camouflage print will not be a problem, but a complete outfit in this style is not recommended.
The more you cover the body with fine cotton clothes, the better, as not to burn your skin too much. Wearing long sleeves also protects you more from insects!
Wearing bright colors in the evenings and at night, keeps insects at a distance as well.
We will dig deeper into African clothing in a future article.
Item Number Four: Good Binoculars.


Watching the African wildlife will be a huge part of your holiday in Africa, so having a good pair of binoculars is an absolute 'must-have'.
Not all animals can be seen close to a vehicle: a leopard can be somewhere down in a riverbed and without binoculars, these animals are very difficult to observe, or even barely visible with the naked eye.
Not only are animals that are far away in the distance closer to you, but they can provide you with a close-up view of animals who are nearer to you. It is magnificent to see the eyelashes of a giraffe or an elephant who is a few meters away from you through binoculars!

We will be discussing binoculars more in detail in a future blog post as well, to help you in making the best choice for your African safari.
Item Number Five: Anti Mosquito Spray.


What should not be missing in your luggage to go on safari is a spray against mosquitos. In tropical countries, it is something you must have to protect yourself from malaria and other diseases you can get from insects, but it is just more comfortable to not be bothered by the stinging and buzzing of these little creatures.
There are repellents on the market with DEET, but there are also products that are made from natural ingredients, which again, we will talk about for sure later and more in detail.
Adding to this, a decent mosquito net comes in very handy. Most of the time, lodges and hotel rooms have these, but I would still pack one extra. You never know if the one in the hotel room is old or broken.
Does it start for you as well, the itching of your skin, just seeing this picture? 🙂

Item Number Six: A Good Backpack.
Well yes, you probably only need a backpack when you are camping and going on a safari with an overland safari vehicle, but I still think that when you are traveling from place to place, a backpack is the easiest form of luggage to use. And it forces you to travel 'light', so you can pack easier and faster.
A small backpack is also quite useful when you go on a hiking safari and you need some stuff at hand, like sunscreen, water, lunch, something to sit on, etc..

Item Number Seven: A Warm Sleeping Bag.
What are you saying Lizzy: a warm sleeping bag? Well, that is what I thought as well when I first went to Africa: the sleeping bag that I bought will probably be too hot.
Well, it was not! I have been to Namibië and Botswana, and I can assure you, the nights can still get cold in the middle of the desert, for example!
I would figure out first what area you are going to and if the nights get cold or not and in which season you are going. If you are going to South Africa when it's winter there, I would bring along a warm sleeping bag for sure! So make sure to be well informed before you go on your safari trip.

Item Number Eight: A Good Camera.
Well yes, a good camera is a necessity, no doubt about it! Later on my website, I will write about how to photograph wildlife and which camera's are the best to go on a safari, but just in short:
A 200mm lens is really the minimum you need in order not to have "miniature" animals on your pictures!

A 300mm lens is ideal and gets you much more options for getting 'closer' to an animal. For example, choose a 70-200mm lens with an 1.4 extender or a 100-400 mm lens, together with a 10-18mm lens for landscapes.

If you want to photograph birds as well, you will need a 500mm or 600mm lens

If you have the means, I would defenitely bring two camera's. If one breaks, you won' be without a camera right away. And you would have the advantage to use 2 different lenses without having to exchange them. Also, no dust will get on the sensors and that is exactly something that Africa has a lot of: dust!
Item Number Nine: Biodegradable Washing Soap.


Please, take care of this wonderful planet and wash your hands/clothes, etc with biodegradable/non-toxic washing soap, especially when you are camping out in the middle of nowhere!

Item Number Ten: Healthcare Necessities.
When I went to the hospital just before my first holiday to Africa, I had a consultation with a terrific doctor for tropical diseases and healthcare.
It is not just about all the vaccines that you need against Yellow Fever and such, but for some countries, you need to take precautions if ever you would end up in an African hospital.
You can not foresee everything, of course, but do bring along a separate, closed, toiletry bag (aka first aid kit), containing extra bandages, painkillers, anti-malaria drugs, antibiotics, etc. And even syringes, because lots of hospitals in Africa are not very hygienic and the same syringes are used for different patients (sorry, but it's the truth).
And always, even the smallest one, disinfect any wounds, always!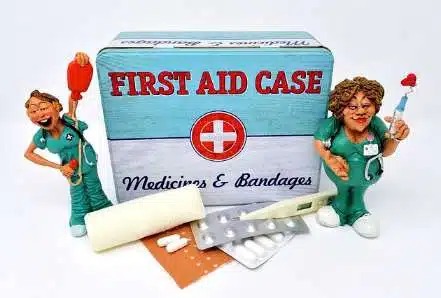 Item Number Eleven: A Flashlight Or Headlamp.

When you get around the campfire at night in Africa, it is hard to find the way back to your tent or lodge without a flashlight.
An ideal flashlight would be:
you can shine the light far away with it
The light color is a neutral white to yellowish
you have batteries that you can easily charge
the flashlight can shine for at least 2 to 3 hours or more
ideally, the flashlight is dustproof
having a headlamp is more handy, because then you have your 2 hands free
Yes again, we will be diving into all kinds of flashlights or headlamps for a safari soon 😉

Item Number Twelve: A Warm Sweater Or Cardigan.
It goes without saying that you do need something warm to wear, even though you are in Africa. Nights can get cold, and you need something to cover your skin as much as possible against insects like mosquitoes.
Depending on which season you go or which country/altitude/region it can get chilly as well.

Item Number Thirteen: Closed Shoes Or Hiking Shoes.

When I went on a safari with an overlander vehicle, I remember that not many people were wearing hiking shoes when climbing down the Fish River Canyon in Namibia. I was happy that I did wear them!
Hiking while supporting your ankles, to me, is quite important. Also, it protects your feet from dangerous animals like scorpions. There is no way that I am hiking in Africa while just wearing sandals! 😉
Item Number Fourteen: Swimwear!
Quite obvious, don't you think? It can get hooooot in most countries, and lots of lodges or campsites have at least a (little) swimming pool. After a hot day in the sun, I would say that this is almost a necessity 🙂
Mind you though, that lots of countries or campsites do not always have swimming pools, it really depends on where you go. For example, I have been to Zimbabwe and Zambia and the campsites there almost never had a swimming pool. Just a reminder that water in Africa is really a 'luxury' thing and you need to respect this.
A little warning on the side: I would not go swimming in sweet waters ever again, because of a little parasite called Schisozoma Mansoni, but again, I will tell you more about that later.
Item Number Fifteen: A Reusable Water Bottle.
This is also something that you always need to have with you, and that is water. Please do not drag along plastic bottles into the bush, but buy a reusable water bottle and fill that up with safe and drinkable water. This makes it easier on the lodges that are built in the middle of nowhere and on the staff as well.

Item Number Sixteen: A Thin Scarf Or Shawl.

Going on a safari often means that you will be collecting dust. This is the reason why a thin scarf can be handy. Tie it around your head or cover your shoulders when it gets a bit chilly. You can use it for many purposes!
Finally, if you have more questions about the clothes that you need, etc, this lady has a terrific youtube video where she explains some more on what to pack 😉 :

My Final Conclusion.
I hope that you enjoyed this blog post on what to pack on safari. If you think something needs to be added or if you have any other questions, please leave a comment below or join me on my new Facebook page.
I wish you happy travels!
Kind regards,
Lizzy